Are you dreaming? Is this real? The answer is yes, yes it is. I have taken the guesswork out of the age-old question: where should we go? You can now be a decisive chick (or dude, but let's be honest we get this question punted to us a lot) and pick your first date spot with confidence!
Below is a map (literally labeled it for you, you're welcome) where you can peruse to your hearts desire! I've included a range of bars varying from price point, neighborhood, and boujee-ness level. Be a boss bitch and choose your own damn bar! I have also been to all of these bars, so if you have a bad experience feel free to take it personally. Mind you – I have left the beer snobbery out of this one.
Cheers!
Haight/NOPA
Horsefeather
Reasons I love Horsefeather: proximity to my apartment (win), cute/hip decor, and fun cocktails. 

Now to be completely fair and transparent the only time I made it here was after I threw myself a party and wandered down thinking we were going to Madrone. However, having perused the menu and the vibe I'm a firm convert. While the front third is the selling point with its hip raised tables and vines (vineage?), your best bet is to head to the back. Not only is it less crowded, but you also won't be in a fishbowl where Divisabros can ogle you on your date. Best part: dress as cute or as casual as you want! We all have our uniform of distressed jeans and leather jackets, but feel free to throw on some heels, converse, Birks, what have you and head to Horsefeather. There's a solid mix of the after work crowd and the first date crowd, so you'll be in good company no matter what. Plus, if things go well, you have the option to order yummy apps before heading to Souvla for a wrap and froyo, or to Madrone to get your Motown Monday on.
Price: $$
Go-to Order: The Thunderbird (beefeater gin, genepy, carpano bianco, pineapple, and orange bitters) and the Halibut Ceviche.
Walkability: Horsefeather is getting pretty well-known, so if you're looking for a still-hip-yet-off-the-beaten-path place in the heart of SF, this is your spot.
The Page
Really you can't go wrong with Divisadero bars. However, the Page has a special place in my heart as it is also very walkable and, most importantly, is the reason I have my middle name (or it's close enough). Arguably more important, though, is that you will look like a Grade A local/cool girl if you pick this place.
While I love me a good cocktail (see above) there's something to be said for getting down and divey. When the fog rolls in and you want to be cozy, you can't beat a good beer and a loyal group of bar flies. The Page has tv's so if you're going during baseball playoffs (RIP the Giants), football playoffs (RIP the Niners), or basketball playoffs (Leggo Dubs) you can yell the three facts you know about sports at the TV in confidence. The vibe here is casual, so leave the heels and ponytails at home. Pretend you know how to play pool and get on in there, girl!
Price: $
Walkability: Easily accessible by the 6/7, or particularly easy Uber from The Mission, Castro, Hayes, Downtown, or the Haight.
Go-to Order: Lagunitas IPA (duh), then head down the street to The Little Chihuahua for some post-date tacos.
Hayes Valley*
*Quick disclaimer: Hayes Valley is hands-down my favorite date spot in the city. It's central, close to BART/Muni, and most importantly is cute with tons of bars to choose from. I could write an essay on this neighborhood alone (yes I know I didn't include Brass Tacks), so let me know if I missed one of your favorites.
Noir Lounge
Funny story about Noir Lounge – I first came across it coming home solo a little tipsy from another date down the street. They were showing the Warriors AND had a pianist, so I felt like I'd fallen into an alternate universe of bars made just for me. Couple that with the old movies they typically show and you got yourself a perfect bar.
While the bar may be easy to miss walking by, you'll immediately earn points by not going for one of the immediate Hayes Valley choices (see: The Riddler). They have a crazy wine list and great food, so even if your date is mediocre (which, chances are, it is) you can enjoy a bomb glass of wine and some Bogart on a Tuesday night. One of my favorites easily.
Price: $$
Walkability: 15 min walk from BART/Muni, not to mention an easy Uber from western SF or down from Fillmore or Lower Pac.
Go-to order: The Burrata Bruschetta (you're welcome) and a bottle of cab
Dobbs Ferry Bar
I like Dobbs Ferry Bar for some of the same reasons I like Noir Lounge. It's not your typical Hayes pick, it's got TV's for sports, and it's right next door to its parent restaurant Dobbs Ferry. If things are going well, head next door for some delicious grubs.
This is one of those bars with a witty A-frame outside, a solid selection of beers, and no annoying pressure to find a spot. Even if you're standing a table opens up quickly, and with the great happy hour deals they have you're not going to want to go somewhere pricier. If you take potential boyf/wife material to Noir Lounge, you take one you're on the fence about to Dobbs. No offense to the bar, it's just much easier to grab a beer and bail without a big check or to-do. Plus, you'd have to go next door for sit-down food, which eliminates the awkward "who's paying for dinner" convo.
Price: $
Walkability: Again, it's Hayes, so you're close to everything. Particularly the Smitten Ice Cream container.
Go-to Order: $6 HH white wine. Done.
The Mission
Zeitgeist
As summer winds down the time for Zeitgeist's open Beer Garden may be drawing to a close. However, with indoor seating and SF's notorious Indian Summers, you may have a good few nights there yet!
Now I'm trying not to be completely partial to Hayes (which is a challenge) as I love the Biergarten there, but Zeitgeist does have the much sought after/pleasant mix of Mission chicness and Marina bro douchebaggery. They'll be nice enough to help you if you don't know exactly what you want (who does) but also have an extensive enough list of beers for even the snootiest beer drinker. Be sure to keep the selfie-taking to a minimum, as this place reeks of too cool for school. Bring your UI designers, your dj's, or your bearded beer snob date to Zeitgeist and soak up the last rays of the year while talking about overpriced coffee and gentrification
Price: $
Walkability: Close to Muni and a quick jaunt from the 16th & Mission BART stop. While Zeitgeist is technically the Mission it's basically the love child of downtown and Market, so you're not too deep in there if you want to Uber, too.
Go-to Order: Cheeseburger and whatever sour or stout they have in rotation (or Lagunitas because, again, duh).
El Techo
Ah, El Techo. Magical land of ne'er seen rooftop bars and Palomas. Is there anything you can't do?
How to even begin in describing my love for this place. The good news about the weather getting colder (besides the imminence of ski season, more on that to come) is that the line for El Techo will decrease quite a bit. Be expected to be greeted by a snooty-ass bouncer before ascending in the creepiest elevator of all time to this Mission gem. Not only is the menu bomb, but the views and vibe up there are hard to beat. You can go for brunch, or on your way to a movie next door at Alamo Drafthouse. Come for the margaritas – stay for the views and chips.
Price: $$
Go-to Order: Pitcher of their Paloma (pueblo viejo tequila, grapefruit, agave, lime, soda), chips & guac, and the Platanos (fried ripe plantain, sour cream, chili, lime)
Walkability: Slightly closer to the Mission & 24th BART station your best bet is to Uber to this bad boy. Unless you live in the Mission, in which case you a) already know about El Techo or b) should be balls deep in a burrito at Farolito at this point.
SOMA/Downtown
Jamber
Living in SOMA was definitely a life decision (one that I quickly got out of as soon as my lease was up), but I do miss the after work scene at Jamber. Give me wine and good appetizers and you have yourself a life long customer.
What I love about Jamber is it's one of those places I'd driven by a million times heading downtown and had never been in. I remedied that one day with an ex and while we didn't work out, the Parmesan & Rosemary Mashed Potater Tots certainly did. They have wine on tap and an awesome Urban-meets-Rural aesthetic, so feel free to waste time in here and/or not make it to the Giants game (this definitely didn't Not happen). The vibe is super casual meets happy hour, so come in a power suit or a track suit and you'll be right at home. This place is also a good choice for the downtown crew who are tired of Novela for the millionth time.
Price: $$
Go-to Order: The Parmesan & Rosemary Mashed Potater Tots (As someone who is very guilty of loving trendy bar foods, I gotta say this is the best rendition I've seen of these yet –  choice of bacon jam or cranberry-walnut jam, to boot) and the Happy Hour wine sampler.
Walkability: You're 2 blocks off Market, so I'd say walk if you're coming from downtown or Uber if you're coming from anywhere else.
Coin-Op Game Room
This is one I was very pleasantly introduced to a few weeks ago. Coin-Op is a re-purposed old warehouse that has 2 stories of great cocktails and great arcade games.
The food was also surprisingly good, as was the ease getting here (that being said I Ubered well after work hours). Especially if it's an early date this place has conversation-starters and activities built right in. There's an entire room dedicated to pinball, a massive Pacman table, and driving games to boot. If you're like me and were incredibly sheltered as a child (aka no video games) even you will find something you're not terrible at in here. Dress super casually and don't interrupt the absurd networking happy hours – those nerds have high scores to beat.
Price: $
Go-to Order: Korean-style Chicken Wings (Gochujang Marinade, Sesame Dipping Sauce) and the Konami code (House-Spiced Tequila, Mezcal, Amaretto, Lime, Agave). Not to mention you're around the corner from Hotel Utah, aka great music and cheap beer if your date goes well and you're not quite ready to call it.
Walkability: Slim to none. Bite the bullet and Uber to this one – and bring quarters.
Local Edition
Local Edition has held multiple spots in my heart over the years. It was one of "my" first bars during my first summer in SF, and has seen me at Christmas parties, awkward dates, and whenever I've been in need of a dark room and a good Old Fashioned.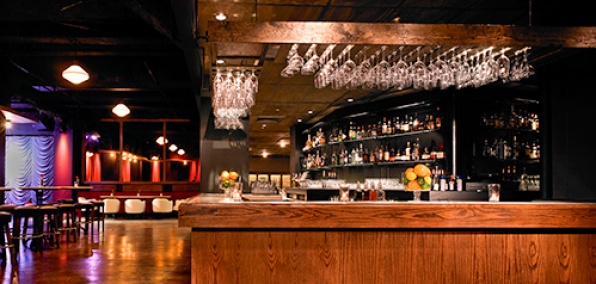 There's live music several times a week here and it really can't be beat for a date spot. It's not impossible to get a table, the bar is drinks only if you want a one and done, and it's dark enough that everyone looks good. I grew my love of Bourbon here, and the aesthetic draws from the fact it used to be the old HQ of the SF Chronicle (hence the name). This place is great for a date that could go either way, as you can either get out quick or settle into this great ol' speakeasy. Dress is mostly the after work crew, so throw on a blazer and some loafers and skedaddle on down here.
Price: $$$
Go-to Order: The Local Editional Cocktail (eagle rare bourbon, orange peel syrup, cherry infused angostura, lemon twist) or The Madison (sparkling wine, grapefruit, cherry heering, aromatic bitters) if you're in the mood for something without dark alcohol.
Walkability: Smack-dab in the middle of downtown, you could BART, Muni, walk, Uber, or repel into this place. Only thing – the entrance is a bit sneaky,
so just keep your eyes peeled for the clock next to the T-Mobile store on the corner.
Polk
The Saratoga
The Saratoga was another spot I'd driven by, thought was cool, and took 5 times to remember the name of. Looking for something on Polk that doesn't have a sticky floor? This is the spot for you.
It's 2 stories with both serving food and gorgeous bars. Without a reservation there are smaller bar tables you can eat at that are petite but can still fit a few drinks and apps. I used this place as an excuse to suss out a 2nd dater, and to wear a new LBD. Dress was a success, 2nd date was not. Regardless – the Saratoga delivered. It was classy without feeling like I was a 24 year old who'd wandered into a retirement community. It's trendy to fault (think a sprig that becomes a salad in your cocktail), but has a good vibe and isn't so loud you can't hear where your date went to college for the third time in a row. Definitely a good excuse to dress up a little bit, especially for SF, and to see how your date handles a nicer environment. Offer to split the bill, this place is a little pricey.
Price: $$$
Go-to Order: The Gin Highball (beware of massive sprigs – Honeydew, Tarragon, Lemon, Tonic), the Melon Halibut Ceviche (Avocado, Serrano Pepper, Basil), and the Michelada Mussels (Tomato, Modelo Beer, Wine)
Walkability: Despite the centrality of Polk in the city, I'd Uber to this place. It's close enough to the Tenderloin you don't want to wander alone, plus Polk is one of the few places Marina folks will actually venture down to (no offense, but you know it's true).
Jackalope
Just up Polk a bit is Jackalope – one of those magical bars that is habitable by Wednesday night and a ratchet drunkfest come Saturday. I've been there on both, and let me tell you it serves both needs beautifully.
The coolest thing about this place is 100% the giant Jackalope head that rules over everything. This place is all the best things about Polk combined – good-sized bar, well-priced drinks, and tvs if you need a spot to duck into when it's raining to watch the Warriors. Again, no food here, so a great spot for a first date followed by drunk pizza across the street if all goes well. If not, channel your inner Jackalope and hop on outta there. Dress is what you make it, I'd say err casual but a blazer here during the week wouldn't be out of the question. They can do all the basics any bar can – so live your best G&T life.
Price: $
Go-to Order: Beefeater Gin & Tonic or a Whiskey Sour.
Walkability: See above – I don't love the idea of girls walking alone on Polk, so use your own discretion. Pony up for the Uber.
Zeki's
Chances are if you live in Nob Hill you know and/or have walked by Zeki's. It's a great local haunt that will earn you points for off-the-beaten-track, not to mention it's easily accessible by cable car, so live your best Full House life and take the cable car up the hill to this cozy watering hole.
For the 2016 NBA Playoffs we diligently made the trek up here each day after work on the Cable Car to watch the Warriors. My coworkers are convinced it's cursed as they lost, and I'm just convinced Lebron is way too good at fake crying. Come on in here for sports, a fire when it's cold out, and insane accessibility to Hot Sauce & Panko wings (arguably the best in the city, I'll let you decide). If you're a local your date will appreciate the proximity to Polk without being directly in Wreck Room – I maintain that nothing good has happened in this bar, except for the time I saw Kelly Olynyk) – and if you're not then you'll still be in business! Enjoy the good bartending, cable car rides, and if things go well the romantic walk to the top of Nob Hill.
Price: $
Go-to Order: Something on draught (either Lagunitas or 21st, they're great at stocking Bay Area beers) or a cocktail. No food, but they're happy to let you order pizza or wings in (10/10 would recommend).
Walkability: Depends on your cardio. Either Uber or take the Cable Car from other parts of the city, or if you're nearby tackle those hills at your own risk.
North Beach/Marina
Tupelo
Tupelo is one of my most favorite happy accidents. I couldn't tell you when I first came here, but walking under the twinkle lights in North Beach and hearing jazz pouring out of this place you can't help but feel like you're back in the 20's.
Tupelo seriously has it all – an awesome roster of changing live music (think lots of Southern Jazz and mom dancing), a serious sports following, and cocktails that will knock you on your butt. I've celebrated several 21st birthdays here, and each was more rowdy than the last. During the week it's a bit tamer, so if you're looking for somewhere with that old-school SF charm in North Beach – this is your spot. Be sure to come back on the weekends, too, and get down and jazzy. Dress here is very casual unless you're coming from an Italian dinner down the street, in which case kick up your wedges, girl.
Price: $
Go-to Order: For date night – Baked mac & Cheese (Crispy bread crumbs, scallions), and the BBQ Pulled Pork Sandwich (southern slaw, pickle, brioche bun) and a Lagunitas. For getting rowdy – their AMF will do just that.
Walkability: Some Muni lines run through North Beach, but it's not an out-of-the-question walk from downtown, either. As always – Uber is a great invention.
Marengo
If ex boyfriends are good for anything it's the fun places they showed you that will prevail even after love (or lust or 2 am) is gone. Marengo is what I wish all Marina bars to be – fun, moderately crowded, and most importantly not Bar None (which is like the troll that lives under the stairs from this place).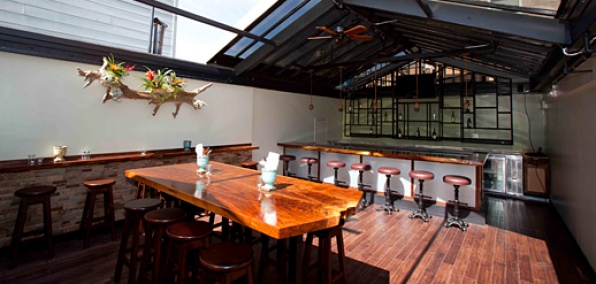 Marengo has an awesome slanted skylight, so even though it's not a rooftop bar (v upset about the lack of these in SF, that's a whole other story) you'll get the illusion of being on top of a building. The cocktails and food are great, and this is definitely the best spot to be for Sunday Funday. Their mix and match sliders are delicious, to boot. You're on Union so have plenty of options if this place gets too crowded, but if you're in early you should be good. Again, there's golf/sports on TV for all you Frat stars out there, and there's also a great restaurant out front. Don your best Derby dresses and/or Lily Pullitzer and head to Marengo to live your best Marina life.
Price: $$
Go-to Order: The Black and Blue sliders (Brandt Farms Beef, Maytag Blue Cheese, Bacon, Green Leaf Lettuce, Tomato) and the Foggy Rose (Tito's Vodka, Fresh Basil, Cucumber, Strawberry Purée, Lemon, Ginger Beer).
And that, folks, is all I got! Apologies for the delay in posting but keep checking back each week to see what shenanigans I've gotten myself into now. Cheers!